If a hurricane threatens New Orleans, IATSE Local 478 procedures for closure are as follows:

All 478 members will be notified by IATSE Local 478 if an evacuation is being considered, and if they will be required to vacate the premises of stages and locations.
It is up to each production/employer to notify all their crew members/employees of the evacuation procedures and departmental preparations.

IATSE Local 478 will secure the perimeter of the office. The security systems will be set on emergency mode, access to the office will be no longer possible, all doors and gates will be locked.

The phone system and website will be updated with information about when the facility will reopen.
The website will have the possibilities for members to communicate.
Re-opening will occur once clearance is given by the City of New Orleans.
The posted IATSE Local 478 Weather Policy has been prepared to ensure the safety of our members.
This policy is provided to all the productions in our jurisdiction; although please note it is not contractual and non-enforceable.
Please contact the business office with any weather related concerns.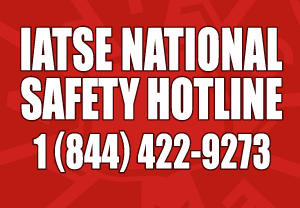 Page Last Updated: Jan 10, 2020 (13:12:00)