COVID-19 News and Resources
Updated 10-8-20: CITY OF NEW ORLEANS TO PROVIDE MORTGAGE ASSISTANCE TO SMALL LANDLORDS IMPACTED BY COVID-19 PANDEMIC
NEW ORLEANS — The City of New Orleans today announced that it will start providing $1.5 million in mortgage assistance to small landlords owning eight or fewer rental units and whose rental income has been impacted by the COVID-19 pandemic.
6-17-20 Membership Update with Cory from IATSE Local 478 on Vimeo.
4/23/20 Update From Business Agent Cory Parker
Local, National, and International Resources:
National & International:
- IA Coronavirus Update Portal
- Quarantined? Need help with groceries? Register here for a volunteer to help: www.iatsecares.org
- Useful links to OSHA preparations for Work and Home
- Guidance on preparing workplace for COVID-19

Mental Health & Wellness:
Visit the Disaster Distress Helpline or call 1-800-985-5990 and TTY 1-800-846-8517
Or text TalkWithUs to 66746
Visit the National Domestic Violence Hotline or call 1-800-799-7233 and TTY 1-800-787-3224
Relax and Stay Mindful during Stay-At-Home Orders

Local Resources:
Louisiana: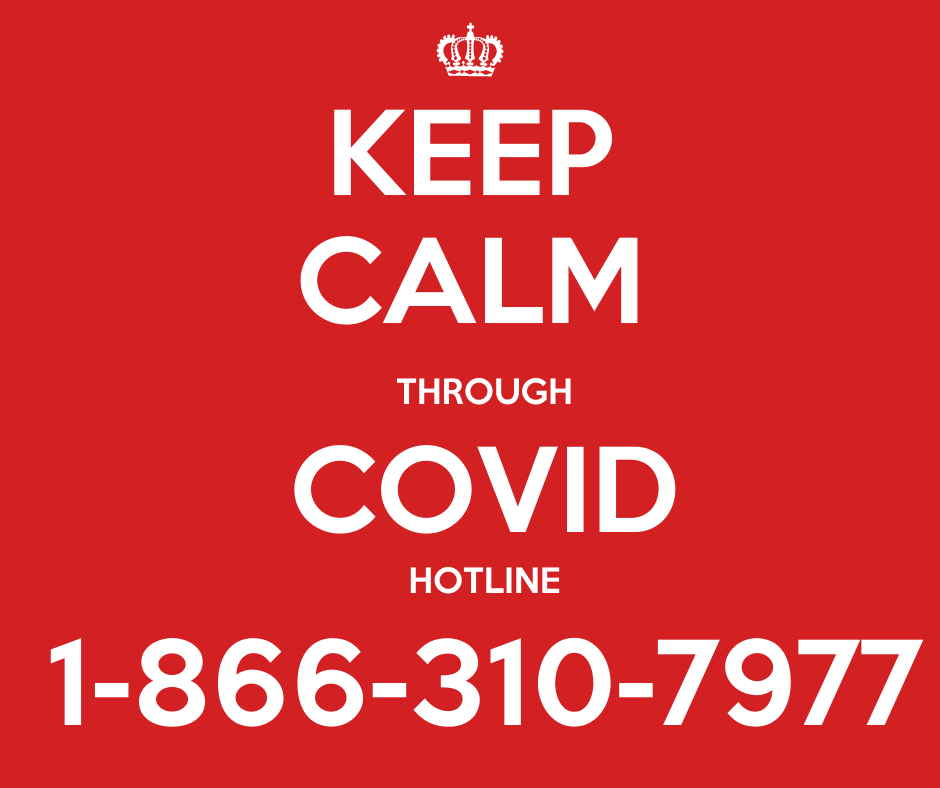 Louisiana State Crisis/Stress Counseling is FREE to ALL! Please call the phone number provided above for assistance.
Click the link below for Arts Council New Orleans' list of relief resources for artists and freelancers, as well as opportunities for philanthropists and donors to help artists facing challenges.
Click Here for a Comprehensive List of Creatives Relief Resources
Governor's Office of Homeland Security and Emergency Preparedness
Department of Health - Free Counseling
Mississippi:
Mississippi Emergency Management Agency
Mississippi State Department of Health
Alabama:
Alabama Emergency Management Agency
---
Political Action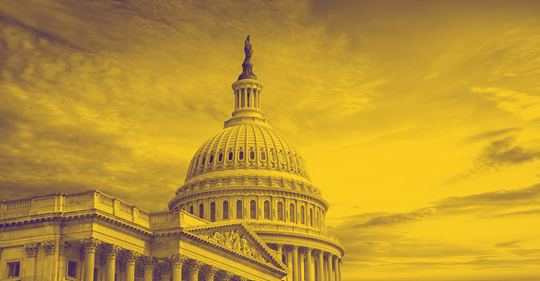 In its latest response to the novel coronavirus (COVID-19) crisis, Congress has passed a third package of emergency relief legislation, the Coronavirus Aid, Relief, and Economic Security "CARES" Act. This bill will provide tangible and immediate economic relief for entertainment workers across the United States, many of whom found themselves out of work overnight due to COVID-19 related cancellations across all sectors of the entertainment industry.
Entertainment freelance, or gig, workers who expected to work for a day, week, month, or season on a production are now without planned wages and benefits indefinitely. Current state unemployment insurance benefits tend to be insufficient for entertainment workers, and many are not eligible for the paid leave expansion in the newly passed Families First Coronavirus Response Act because of the unique nature of freelance work.
IATSE members and allies sent over 106,000 letters to Congress urging lawmakers to include displaced entertainment workers in the next legislative relief package, and our voices were heard. IATSE commends Congress for expanding access to economic support for loss of work related to COVID-19.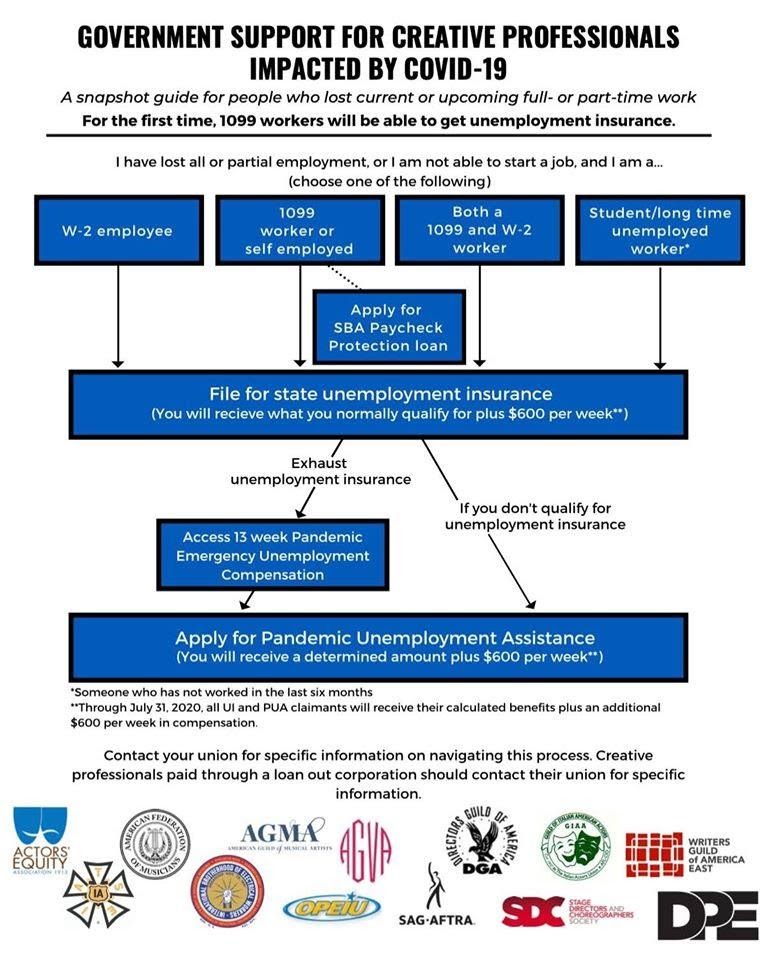 The CARES Act contains the following key provisions:
· Creates a temporary Pandemic Unemployment Assistance program to provide payment to those not traditionally eligible for unemployment benefits who are unable to work as a direct result of the coronavirus public health emergency. This includes entertainment workers with limited work history and scheduled, or offered, work that did not commence.
· Provides an additional $600 per week payment to each recipient of unemployment insurance or Pandemic Unemployment Assistance recipient for up to four months.
· Provides an additional 13 weeks of unemployment benefits to help those who remain unemployed after weeks of state unemployment are no longer available. (See our unemployment page for help with filing your unemployment).
· Provides one-time recovery checks of $1,200 for all individuals with adjusted gross income up to $75,000; $112,500 for head of household. All married couples, with adjusted gross income up to $150,000 who file a joint return, are eligible for $2,400. Those amounts increase by $500 for every child. The rebate amount is reduced by $5 for each $100 a taxpayer's income exceeds the phase-out threshold. The amount is completely phased-out for single filers with incomes exceeding $99,000, $136,500 for head of household filers, and $198,000 for joint filers.
· Waives the 10-percent early withdrawal penalty for distributions up to $100,000 from qualified retirement accounts for coronavirus-related purposes.
Entertainment workers will now receive economic support to help make up for the income lost due to cancelled or postponed work, and that money will soon be in the hands of working families.
However, our work is not done – the crisis continues and so does the fight. The IATSE remains focused on ensuring that subsequent COVID-19 relief legislation includes pension relief, access to affordable healthcare, economic support for the entertainment industry to put people back to work, and increased federal arts funding to assist arts nonprofits and other employers in financing projects and performances. We also stand in solidarity with our brothers, sisters, and kin on the front lines of this coronavirus pandemic and call for increased safety and protections as they seek to help others.
We look forward to the day when entertainment workers can start helping the country heal, but we must first mitigate this public health crisis and ensure we sustain working people until they can safely return to work.
---
Coronavirus Healthcare & Hardship
If you are experiencing hardship due to the COVID-19 shutdown, you may be eligible for the following assistance. We will be updating this page often as more resources become available. We thank you for your patience as this situation unfolds.
Charities:
Email Shira Landman or call 504-486-2192 Ext 206 for more information.
COVID-19 Annuity Withdrawal:
Annuity hardship withdrawals have been extended to include a new category of hardship withdrawals to assist those of you who have been affected by COVID-19. If you have lost work, been laid off, or had other losses or expenses due to the virus, you are eligible for immediate withdrawal in the amount of your loss.
HOWEVER, please understand the full tax and repayment implications for withdrawing funds from your annuity. This is not a decision to be taken lightly.
Click Here to Explore Your Options
In order to obtain an application, you can Email Shira Landman or call 504-486-2192 Ext 206, or email the National Benefits Fund directly.
Applying for Hardship:
You may also be eligible to apply for Hardship through the Local 478 Welfare Program. Email Shira Landman or call 504-486-2192 Ext 206 for more information.
CLICK HERE TO LEARN MORE ABOUT COVID-19 BENEFITS
---
Unemployment Issues

Click Here to Visit Our Unemployment Assistance Page
---
IATSE Medical Supply Drive for COVID-19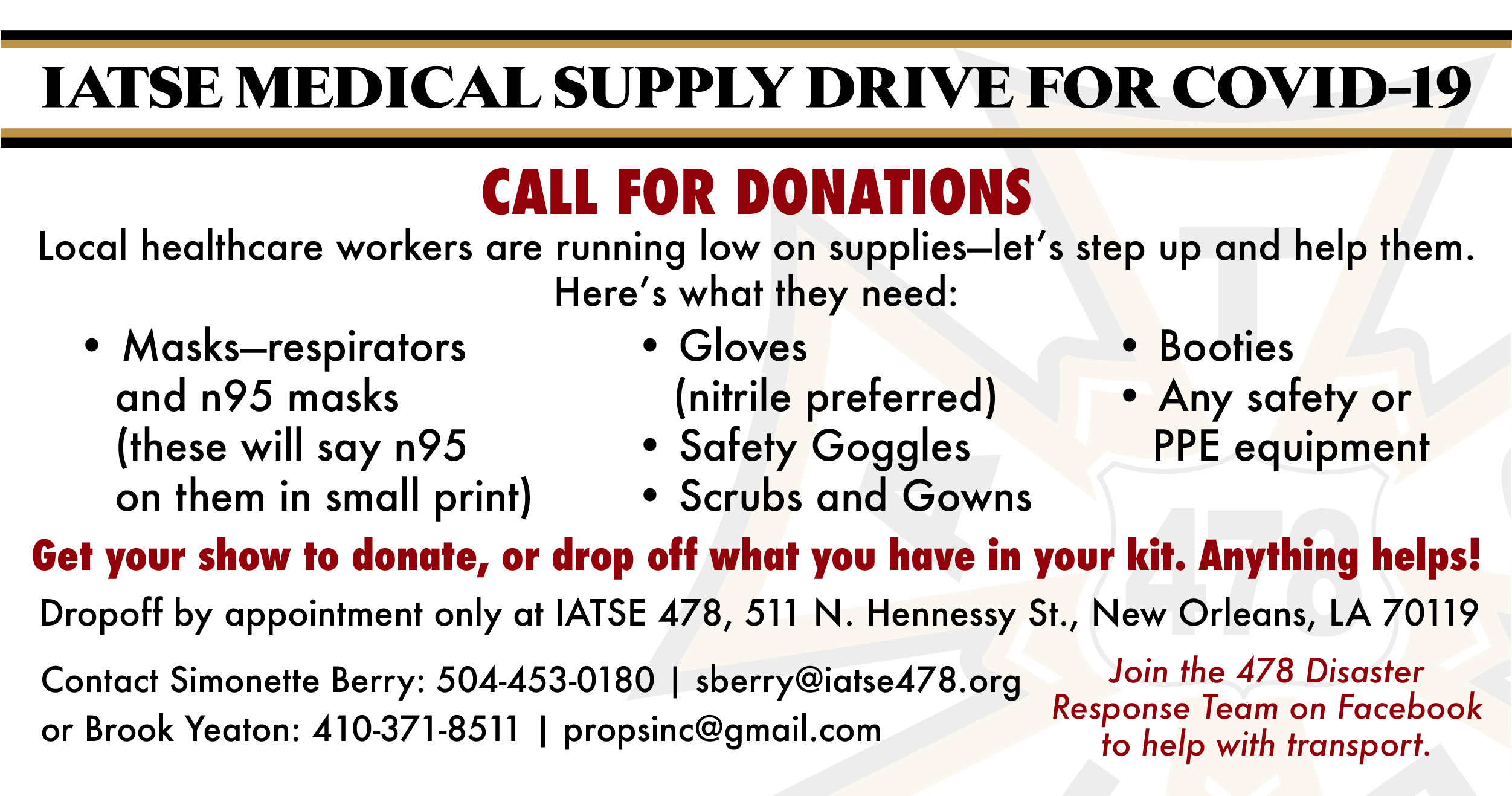 Calling all 478 Props, Set Dec, Scenics, Construction, Costumes, or anyone who might have some extra PPE in their kit. Local healthcare workers are running low on supplies—let's step up and help them.
Local 478 has partnered with producers and crew at NCIS New Orleans and local prop houses for the IATSE Medical Supplies Drive. So far we've gotten over 30,000 gloves, thousands of n95 masks and respirators, hundreds of isolation gowns, coveralls, booties, and caps, and miscellaneous supplies like soap, sanitizer, alcohol, wipes, personal toiletries, and full face shields to first responders, doctors, and nurses. Local 478 also recruited local prop house Creative Film Connections to participate in the Medical Supply Drive. Trisha Scott, owner of CFC, generously donated over $100,000 worth of medical equipment to Oschner hospital.
Here are the facilities that have received donations so far: Nola EMS, the Tulane Health System, University Medical Center/LCMC Health, East Jefferson Hospital, Oschner, Jefferson Parish Sherrif's Department, St. Rita's, the New Orleans Firefighters, and the VA hospital.
Dropoff is by appointment only at the hall. Contact: Simonette Berry @ 504-453-0180
Thank you messages keep pouring in…
Thank you from Nola EMS: https://www.facebook.com/neworleansEMS/posts/1748136401994773
Thank you from Tulane: https://www.facebook.com/patrick.bordnick/posts/10219976060249741
Click Here to Watch WWL's Special about the Creative Film Connections Donation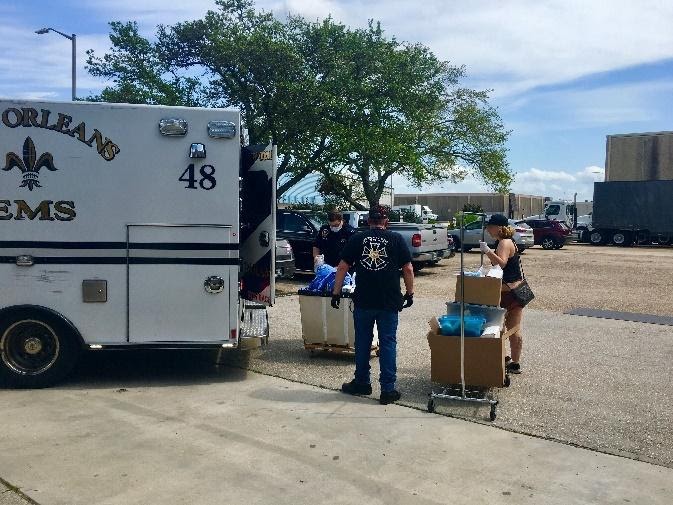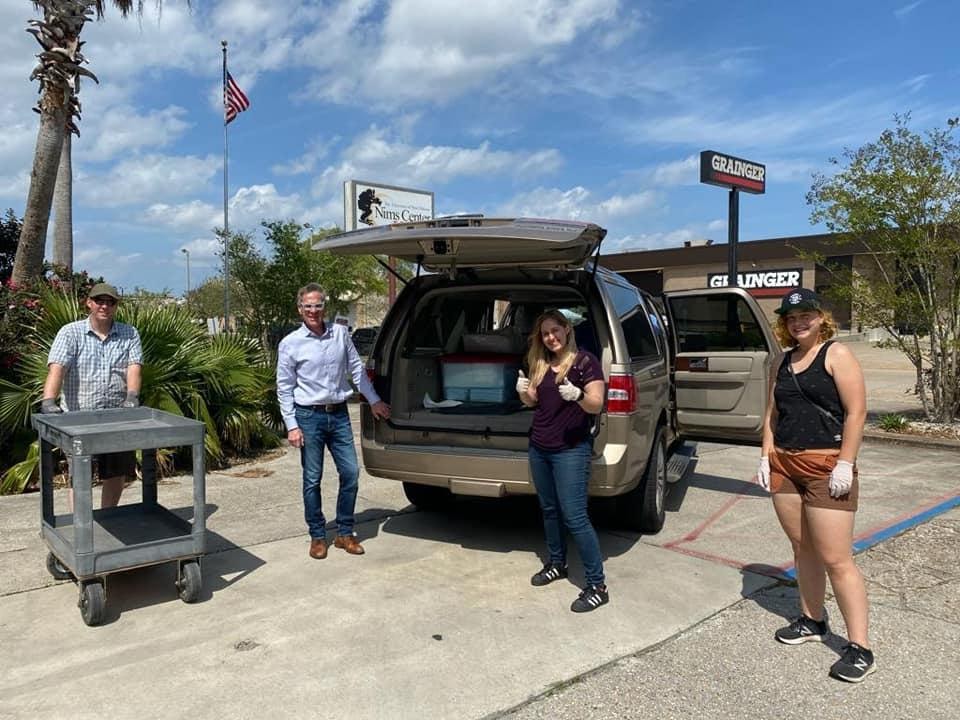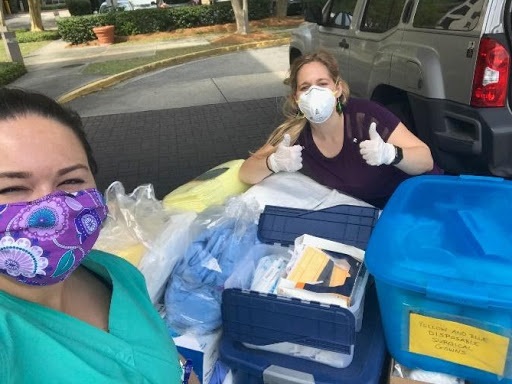 NOLA Mask Makers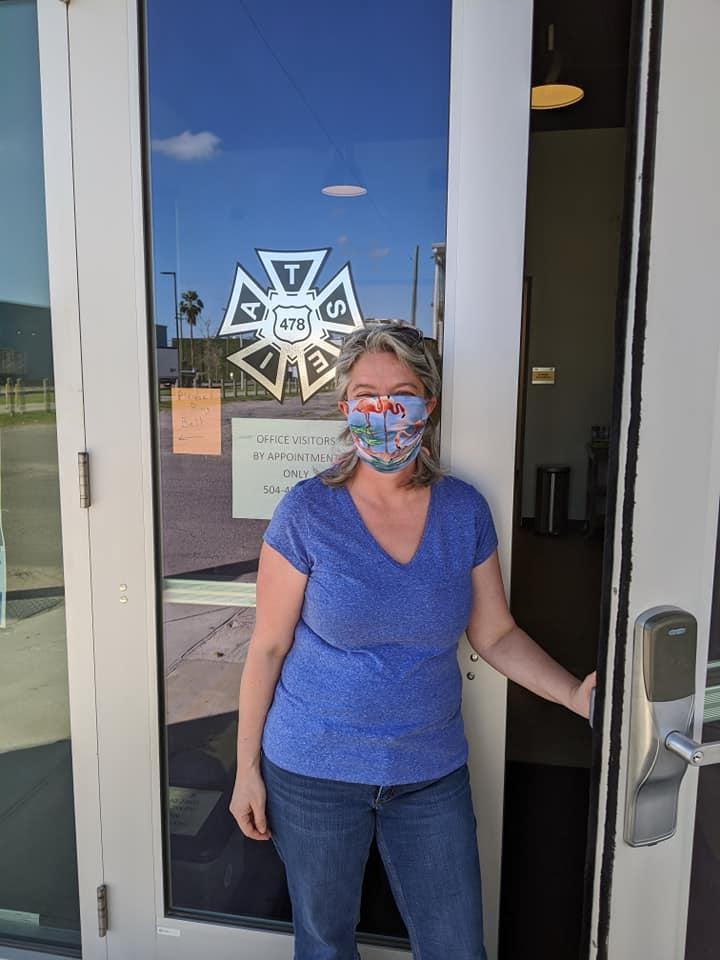 We are so proud of our Local 478 Seamstresses. A group of them are working hard to create hundreds of masks for local hospitals and first responders. Check out this coverage of their efforts:
An interview with 478 member Alison Parker is part of this Nola.com story https://www.nola.com/news/coronavirus/article_d425eda0-6ae9-11ea-9e7b-5f3c9ea4db33.html
See Local 478 member Karen Clark giving a mask making tutorial on WGNO: https://wgno.com/news/health/coronavirus/local-seamstress-shows-how-to-make-your-own-surgical-mask/
IATSE 478 Disaster Response Team and IATSE C.A.R.E.S.
Union members get things done. Like we did after the August 2016 Flood, Local 478 has mobilized the Disaster Response Team to gather medical supplies, help with deliveries for the 478 Seamstresses making masks, and make grocery and pharmacy runs for members in need. To get involved, email Simonette Berry or Join the Response Team Facebook Group.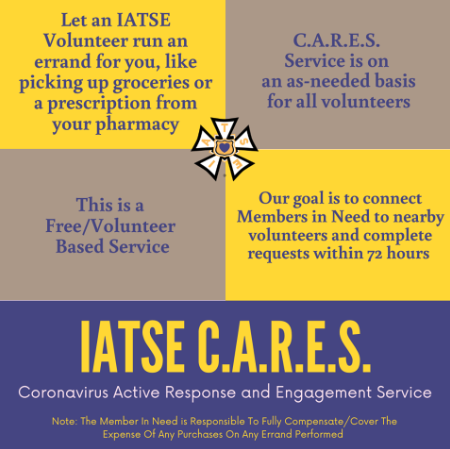 IATSE C.A.R.E.S
We are also teaming up with the I.A. Young Workers to utilize IATSE C.A.R.E.S., their brand-new system for linking members in need to members who'd like to volunteer. The mutual aid program, dubbed Coronavirus Active Response and Engagement Service (C.A.R.E.S.), facilitates volunteer deliveries for at-risk members, as well as a system for volunteers to intermittently check in with other members by phone.
"We've had over 1,000 members already commit to volunteering just days after the launch of the website," said IATSE Director of Communications Jonas Loeb. He added that C.A.R.E.S. is part of a larger campaign to organize mutual aid efforts both inside and outside of the union.
We are trying to get as many members to sign up in our area as we can, and it takes one minute to put all your info in. Sign up here!
If you are sick or high risk and confined to your house and need someone to do grocery or pharmacy runs, email Simonette Berry and also register on the IATSE C.A.R.E.S. website here: https://iatsecares.org/request-help/