October Lift Certification Training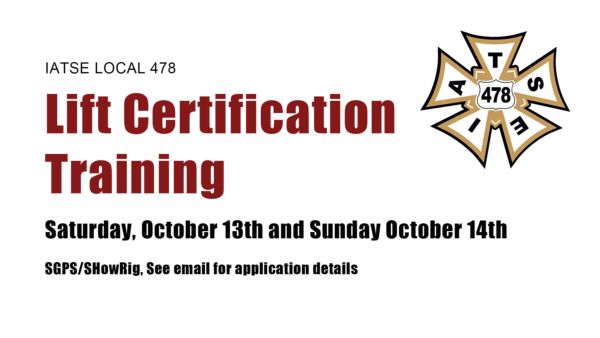 IATSE LOCAL 478 LIFT CERTIFICATION
WHEN
October 13th and 14th, 2018
8am – 5pm
WHERE
SGPS/ShowRig
1001 Distributors Row, Elmwood
Industrial Park, New
Orleans, LA 70123
COURSE DESCRIPTION
Update your certification on Aerial Work Platforms (Lift Certification). Upon successful completion of this class, students will be certified to operate: Vehicle mounted elevating and rotating aerial devices, manually propelled elevating aerial platforms, boom- supported elevating work platforms & Self propelled elevating work platforms.
FREE for IATSE members in good standing!
Space is limited.
Apply by filling out Application and Emailing to Rmartin@iatse478.org
BY Wednesday, Oct 10, 2017
Submit your $50 deposit to:
IATSE Local 478 – Lift Class January 28, 2017
432 N Anthony St Suite 305
New Orleans, LA 70119
Make checks payable to IATSE Local 478 –
Deposit is refunded at completion of class, deposit is forfeit if no-show
STUDENTS NEED TO BRING:
Harness
Hard Hat
Safety Glasses
Speed Rail wrench
PLEASE DRESS APPROPRIATELY!
INSTRUCTOR:
James Trapper McEvoy is an active member of IATSE Local 478. He has been in the entertainment industry since 1994 and has been rigging since 1996. He is an OSHA outreach trainer and an AWP & Telehandler trainer through JLG.
Class Schedule:
Morning Session is classroom oriented
There will be a 1 hour walk away lunch
Afternoon Session is skills based, outdoors
Download:

oct_2018_Lift_app.pdf